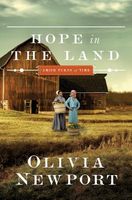 Olivia Newport transports you back to the 1930's when our country was struggling to survive the Great Depression. Let Newport take you back in time to Lancaster, Pennsylvania where we will meet Amish women Gloria Grabill and her English neighbor Minerva Swain.
As both families are faced with the challenge of providing for their families, Gloria seems to have a better sense of what she must do to help her family through this time, while Minera appears to be having a difficultly figuring it out. If these two could get to k ow one another, before making snap decisions on what they've observed, they may find that there's a lot they can teach one another. This is a time where families need to all the help they can get; will these two be able to set aside their judgments long enough to learn from each other?
This book 4 in Amish Turns Time. Though I have no read the previous books in this series, after this story I may just to back and read them! I recommend ding so before you begin this one.. I have always enjoyed the writings of Olivia Newport and I am looking forward to what her next book holds.
I received a free copy from Net Galley for my honest review.
About the Author
I'm imagining you. You walk past as I water my front flowerbeds and we wave. You check the time as we both stand in a long line at the grocery store. You sit in front of me in church. I'm at my table in the coffee shop and you're at yours.
We may smile politely and move on with our separate lives. Or one of us may speak, a simple invitation to conversation, and the words flow between us.
Here the adventure begins. When we meet someone new, we never know where it might lead.
I've been married for over thirty years and have two twenty-something kids. We live in stunning Colorado at the foot of the Rockies, where the day lilies in my back yard grow as tall as I am. (No short jokes, please.)
Not every piece of my life is pretty, though. Some days I want to throw out whole chunks. But I am living each day looking for the grace of God to me, in me, and through me. Having your companionship along the way will help uncover a lot of great stories.
Thanks for stopping by my site, where conversations and adventures begin with a click. I hope we'll run into each other often.
– Olivia Newport
For more infomation about the author visit her web site at http://www.olivianewport.com/